Bios
East Rock Klezmer met in 2007 in Connecticut and soon began to play regularly at East Rock Park in New Haven. Our audiences in the park inspired the band's name.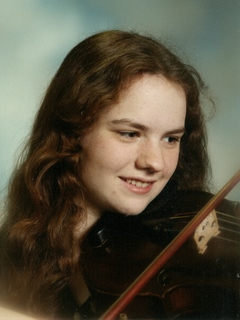 Abigail Fiore - viola, violin
Abi Fiore studies algebraic geometry by day and fiddles by night. She is a graduate of Columbia University, where she managed the Columbia Klezmer Band, under the direction of Jeff Warschauer and Deborah Strauss. She is heard on the Columbia Klezmer band CD "Thank You, Mr. Belf." She is currently pursuing a PhD in mathematics at Yale University, where she teaches calculus and is a member of the Yale Klezmer Band. A regular attendee of KlezKanada and KlezKamp, Abi is committed to preserving and maintaining the klezmer sound of the "Old World." She is married to East Rock paykler Mike Fiore.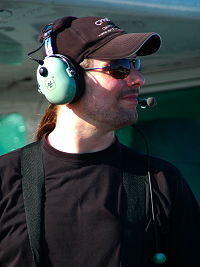 Michael Fiore - poyke, baraban, percussion
Michael Fiore is quickly gaining speed in his studies of the art of Yiddish drumming. A novice musician, he has a keen ear and sense of rhythm; he impressed his band-mates immensely by immediately picking up rudimentary skills in poike, tsimbl, and jaw-harp. He has studied at KlezKanada with Aaron Alexander, Thierry Arsenault, and the great Stuart Brotman. Mike's other musical influences include Led Zepellin, Jethro Tull, Rush and Dream Theater. He is married to East Rock fiddler Abi Fiore.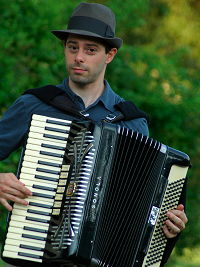 James Kessler - accordion
James Kessler received his Bachelors Degree from the University of Connecticut in 2002. He teaches music theory, directs the jazz ensemble and gives private instrumental instruction at the Wooster School in Danbury, CT. He is a performing musician in several musical genres including jazz, rock, hip-hop, classical, folk, world music, funk, and fusion. James educates students about klezmer and all forms of music at every opportunity. He is a faculty member at Ridgefield's Enchanted Garden Conservatory of the Arts and also at the Cider Mill Conservatory of Wilton, CT. He has performed with Adrianne Greenbaum's Klezical Tradition, Daddy Catfish, the E.G. Allstars, the Grapes of Vaudevillian Fantasy, Jake Shulman-Ment and others. As a prominent teacher of musical composition, his students have been honored with awards year after year for their musical creations. James lives in South Salem, NY.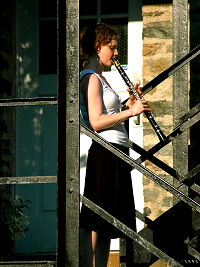 Becky Wexler - clarinet
Clarinetist Becky Wexler enjoys an active career in the United States and in Canada. Her versatility is highlighted in her repertoire, which ranges from chamber and orchestral music to klezmer, Balkan, Dixieland, American folk, and improvisations on Taize chant. Her warm tone, vibrato, musicality, and technical mastery have been noted by many acclaimed musicians; she is privileged to include Cookie Segelstein, Joshua Horowitz, Pete Rushefsky, Deborah Strauss, and Kurt Bjorling as some of her mentors.

Originally from Washington, D.C., Becky holds a bachelor of the arts degree in music and religious studies from Macalester College (St. Paul, MN), a semester's certificate of study from the Zoltán Kodály Institute (Kesckemét, Hungary), and a master's degree of the arts in religion from the Yale Institute of Sacred Music (New Haven, CT).

Becky currently directs the music for services at Yale University's Slifka Center Shabbat Unplugged and at Kahal B'Raira, a congregation for Humanistic Jews in Cambridge, MA. She manages two choirs at Yale—the Camerata and Schola Cantorum—and enjoys singing Anglican motets with the choir of St. Thomas's Episcopal Church (New Haven, CT). She plays with East Rock Klezmer band (New Haven, CT), Marsh Garden Irregulars (New Haven, CT), and is a member of the internationally renowned klezmer band the Lithuanian Empire.